Toni Qattan -
طوني قطان
Biography of Toni Qattan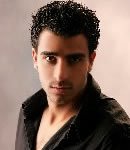 Toni Qattan is a Jordanian singer. He was born on August 11th, 1985.
At the age of 8, Toni began to play the guitar and piano.
He rose to prominence with his hits ' Betghib Alayah', and ' Awedtini Sahr il Layali' which was very popular.
He shot the music video of the songs 'Awedteni' and ' Betghib Alaya'.
Toni released two albums entitled ' Ayouni Sahrana' which contains 6 tracks and ' Malakshi Zai' (10 tracks).
Also Tony Qattan composed a song for Lebanese singer Joe Ashkar, and Arab Superstar Diana Karazon.
Comments on Toni Qattan
Place a link to the page of Toni Qattan on your website or blog
Post to your blog
Permanent link
BB CODE
Official Website of Toni Qattan, photo of Toni Qattan, song de Toni Qattan, album of Toni Qattan 2023, music video of Toni Qattan , word of Toni Qattan , listen Toni Qattan mp3