Abdallah Al Rowaished -
عبد الله الرويشد
Biography of Abdallah Al Rowaished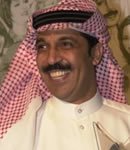 Abdallah Al Rowaished is a popular male performer from Kuwait. He was born in 1961 in Kuwait.
Young he started to play lute and founded Al Roba'y group with three friends, which was dissolved in 1979 since then Rowaished focused on his solo career.
In 1983 Abdallah Al Rowaished stared his solo career, and launched his first album entitled ' Rihalti'.
Then he shot a music video of a song from this album, it was one of the first musics videos by an Arab singer.
Throughout his career, Abdallah Al Ruwaished released over 30 albums that increased his fame and popularity, among them is cited 'Wayak', 'Laylat Omer' 5 volumes, ' Laylat Fan' 2 volumes, 'Ramadi', 'Lumni Beshouq', 'Aah Ya zaMan', 'Al Shiug Wa Al Dama'ah', 'La Tajeen', 'Watan Omri', 'Ma Fee Ahad Mertah', 'Allah Ma'ak', 'Ish Ghayiz El Nas', 'Ya Naseen Al Habayeb', 'Yallah Al Salamah', 'Rowaished 2006, 'Rowaished 2008'...
Place a link to the page of Abdallah Al Rowaished on your website or blog
Post to your blog
Permanent link
BB CODE
Official Website of Abdallah Al Rowaished, photo of Abdallah Al Rowaished, song de Abdallah Al Rowaished, album of Abdallah Al Rowaished 2021, music video of Abdallah Al Rowaished , word of Abdallah Al Rowaished , listen Abdallah Al Rowaished mp3