Nabil Shuail -
نبيل شعيل
Biography of Nabil Shuail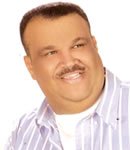 Nabil Shuail is a Kuwaitian singer. He was born in Junuary 1st, 1962.
Nabil Shuail is nicknamed the Golf Nightingale.
He rose to fame with the song 'Ya Shams', 'Shoufi Gheirou', 'Ma Arwa'ak'...
Troughout his career, Nabil Shuail shot a number of his songs as video clips that increased his fame and popularity among them is cited ' Janeey', 'Ana Nater', 'Min Gal', 'Ma Nsitehoum', 'Leih Ya Gharam', 'Misk El Khitam'...
In 2007, he launched his last album entitled 'Nbim Shuail 2007' which includes 9 tracks.
Place a link to the page of Nabil Shuail on your website or blog
Post to your blog
Permanent link
BB CODE
Official Website of Nabil Shuail, photo of Nabil Shuail, song de Nabil Shuail, album of Nabil Shuail 2023, music video of Nabil Shuail , word of Nabil Shuail , listen Nabil Shuail mp3