Amal Hijazi -
أمل حجازي
Biography of Amal Hijazi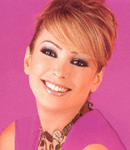 Amal Hijazi, Lebanese singer, Arab popstar.
Amal Hijazi first entered the show-business scene as a model. Other than her beauty, Amal Hijazi's one of the most fascinating voices on the Arab scene.
Amal Hijazi appeared to public in 2000 with a single "Halan". One year later, she released "Rayah Balak" which will be included in his first album "Akher Gharam". The album topped official sales charts and the single "Rayyah Balak" was a hit during the six months following his release and took the singer into tours across many Arab-speaking countries for nearly a year. Amal's next album was "Einak" including as the title song a duet with Faudel. The work achieved even greater success.
In mid 2002, Amal Hijazi released a second album "Zaman" which catapulted her to phenomenal success. Her third album was "Bedawar A Albi", released in early 2004.
Amal Hijazi's last album is "Keef El Amar" (2008)
Amal Hijazi is now one of the best albums sellers in Arab world and her success is surely not over yet.
Place a link to the page of Amal Hijazi on your website or blog
Post to your blog
Permanent link
BB CODE
Official Website of Amal Hijazi, photo of Amal Hijazi, song de Amal Hijazi, album of Amal Hijazi 2023, music video of Amal Hijazi , word of Amal Hijazi , listen Amal Hijazi mp3