Assil Omran -
اسيل عمران
Biography of Assil Omran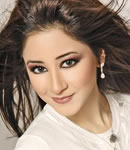 Assil Omran is a female Saudi performer.
July 25th, 2007, Assil Omran launched her first album with Rotana production company, he's entitled 'Khajlanah'.
This album contains 9 tracks among them is cited ' Aref Kadre ',' El Helwe Kalam ',' Khajlanah ',' Eltezezm Haddak '....
Assil Omran has shot the music video of 'Khajlanah'.
Place a link to the page of Assil Omran on your website or blog
Post to your blog
Permanent link
BB CODE
Official Website of Assil Omran, photo of Assil Omran, song de Assil Omran, album of Assil Omran 2022, music video of Assil Omran , word of Assil Omran , listen Assil Omran mp3