Ayman Zbib -
أيمن زبيب
Biography of Ayman Zbib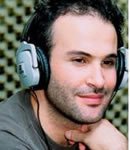 Ayman Zbib, Lebanese Singer.
Ayman Zbib is among the most talented of young artists in Arab musical scene. Since he released his first single, Ayman Zbib became one of the most acclaimed singers .
Ayman Zbib gave shows in several countries and in the most prestigious halls of the Arab-speaking world. Ayman has performed in the Open Municipal Stadium of Aleppo on September 7th, 2007.
Comments on Ayman Zbib
Place a link to the page of Ayman Zbib on your website or blog
Post to your blog
Permanent link
BB CODE
Official Website of Ayman Zbib, photo of Ayman Zbib, song de Ayman Zbib, album of Ayman Zbib 2023, music video of Ayman Zbib , word of Ayman Zbib , listen Ayman Zbib mp3