Azar Habib -
عازار حبيب
Biography of Azar Habib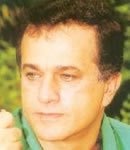 Azar Habib was a Lebanese composer and singer. He was born on November 28th, 1945 in Marjayoun in Lebanon.
At 4 years old he leaved with his family Marjayoun to Beirut. Children he loved painting and drawing. At the age of 18 started playing the guitar and became interested in music.
In 1962, Azar and some of his friends formed a band and called it ' Los Diavalos', before change it to ' Los Cavalieros'.
He is considered among the first creators of the new style of music which mixed western music and eastern music.
Azar Habib died on November 15th, 2007 of heart attack in Lebanon.
Place a link to the page of Azar Habib on your website or blog
Post to your blog
Permanent link
BB CODE
Official Website of Azar Habib, photo of Azar Habib, song de Azar Habib, album of Azar Habib 2023, music video of Azar Habib , word of Azar Habib , listen Azar Habib mp3