Bassima -
باسمة
Biography of Bassima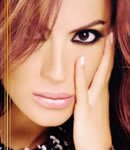 Bassima is a Lebanese singer.
She rose the fame with the songs ' Washwashny Habibi Sammaani Kalam', and 'Fi Orbak w Bo'dak Hayati Achanak '. Bassima started to work with the famous singer writer and composer Marwan Khoury.
Bassima launched her first album 'Dawwabni Doub' in 1999 and 'Andi Sou'al' in 2001 which contains 13 tracks including the tube 'Shou 3a baly', 'Shouqi Nar', 'Wahyat'Oyounak', 'Raiteni Nejme', 'Andi Sou'al' ....
Bassima released many successful albums like 'Einy Ya Mo' in 2003, 'Shou Rajja'ak' in 2004, 'Shou A Bali' in 2005, and recently 'Helm Toyour' in 2008. Also, she shot a number of her songs as video clips that increased her fame and popularity such as ' Dawabni Dob', 'Andy so'al', '3einy Ya Mo', 'Touby Ya 3ein', ' Shou 3a Bali'.
Place a link to the page of Bassima on your website or blog
Post to your blog
Permanent link
BB CODE
Official Website of Bassima, photo of Bassima, song de Bassima, album of Bassima 2022, music video of Bassima , word of Bassima , listen Bassima mp3