Carole Samaha -
كارول سماحة
Biography of Carole Samaha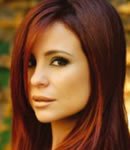 Carol Samaha, Lebanese singer.
Graduating with a masters degree in acting and directing in 1999, Carole Samaha had only one dream : being on stage.
Carol Samaha started as an actress in the theater and television. Introduced to Mansoor Rahbany, Carol thought about a musical career.
Armed with a strong voice and a very particular style, Carol achieved huge success in just few years. Carol is awarded ''Best Female singer of the year in the Arab Music Award Constest, Dubai 2004.
Place a link to the page of Carole Samaha on your website or blog
Post to your blog
Permanent link
BB CODE
Official Website of Carole Samaha, photo of Carole Samaha, song de Carole Samaha, album of Carole Samaha 2022, music video of Carole Samaha , word of Carole Samaha , listen Carole Samaha mp3