Dana Halabi -
دانا حلبي
Biography of Dana Halabi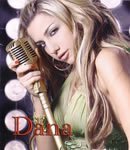 Dana Halabi, also known as Dana, is a Lebanese singer and model born in Kuwait on January 18, 1987.
Dana moved to Tripoli, Lebanon at an early age. Dana is studied Interior Design at American University of Science and Technology and started a modeling career in 2001. Her appearances earned her much popularity and a big fan base among stylists and fashion fans. Thus, Dana Halabi was named Miss Magic Eyes 2003 and Miss Oriental Dance 2004.
Dana launched her singing career by the release of her first song and music video "Ana Dana". Her most popular tracks include : "Inta Meen", "Bos Alaya", "Miya el Miya" and her latest song, "Ta Moot".
Place a link to the page of Dana Halabi on your website or blog
Post to your blog
Permanent link
BB CODE
Official Website of Dana Halabi, photo of Dana Halabi, song de Dana Halabi, album of Dana Halabi 2022, music video of Dana Halabi , word of Dana Halabi , listen Dana Halabi mp3