Darine Hadchiti -
دارين حدشيتى
Biography of Darine Hadchiti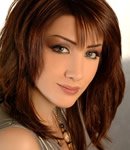 Darine Hadchiti, Lebanese singer was born in 1981 in Hadchit a small village in Lebanon.
Darine hadchiti started singing at the age of 13. She participated in Studo El Fann in the season 2001- 2002 and won the bronze medal.
She started her career with the Lea Production Team in 2005, and she rose to fame with her first song 'Eddam El kel'.
She became one of the most famous Arab singers for her vocal talent and charisma.
Darine Hadchiti released two albums 'Eddam El Kel 'in 2005 and ' Irtahlak Albi ' one year after.
Recently, she won the best video award ( in the arab world) for 'Irtahlak Albi' who was filmed in Australia.
Place a link to the page of Darine Hadchiti on your website or blog
Post to your blog
Permanent link
BB CODE
Official Website of Darine Hadchiti, photo of Darine Hadchiti, song de Darine Hadchiti, album of Darine Hadchiti 2022, music video of Darine Hadchiti , word of Darine Hadchiti , listen Darine Hadchiti mp3