Diana Haddad -
ديانا حداد
Biography of Diana Haddad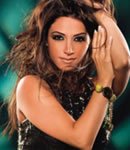 Diana Haddad is a Lebanese pop star, born Diana Joseph El Haddad in Bsalim in the South of Lebanon on the 1st of October 1976 to a five-sibling family.
Diana Haddad grew up in Kuwait and early shown musical talents while participation in school parties. In 1990, with her family, Diana moved back to Lebanon.
Graduated in computer programming in 1992, Diana carried much interest to a musical career. Her first single song "Tayr Al Yamama" earned her the 4th rank all over Lebanon. In 1995, Diana Haddad got married to the famous director Suhail Al Abdool from Emirates who became the great partner of her career which took off with a song and video clip "Saken".
Throughout a twenty-years flourishing career, Diana Haddad has shot more than 23 clips, directed by her husband for the most of them and hit 11 albums including the first "Saken" (1996), "Ammanih" (1998), "Shater" (1999), "Law Yesaloni" (2002) and the latest "Diana 2006".
Place a link to the page of Diana Haddad on your website or blog
Post to your blog
Permanent link
BB CODE
Official Website of Diana Haddad, photo of Diana Haddad, song de Diana Haddad, album of Diana Haddad 2022, music video of Diana Haddad , word of Diana Haddad , listen Diana Haddad mp3