Dina Hayek -
دينا حايك
Biography of Dina Hayek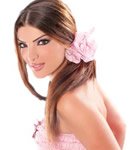 Dina Hayek is a lebanese pop star.
Dina Hayek first sang in 1999 after having studied music in Kaslik University and taking courses with Fouad Houad and Rafik Houbaika. She participated in several concerts and events in Lebanon and Egypt and across Gulf region.
Noticed by Georges Wassouf, Dina Hayek she performed with Sultan Al Tarab in numerous concerts. The famous Kazem Essaher also invited her to stage in many of his shows.
In January 25, 2003, Dina Hayek released her first album "Sehir El Gharam" which sat inside the Top 5 of Lebanese charts for three weeks. She later released a new hit song "Katabtellak" which titled her second album produced by Rotana. The album revealed Dina Hayek as one of the most precious voices among young singers of the Middle East.
After a delay of a few years, Dina Hayek came back on the 26th of October 2006 with an eight-tracked album: "Taa La Albi". The album was a big success.
Place a link to the page of Dina Hayek on your website or blog
Post to your blog
Permanent link
BB CODE
Official Website of Dina Hayek, photo of Dina Hayek, song de Dina Hayek, album of Dina Hayek 2020, music video of Dina Hayek , word of Dina Hayek , listen Dina Hayek mp3