Elissa Khoury -
إليسا خوري
Biography of Elissa Khoury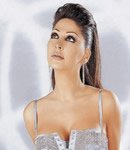 Elissa Khouri, known as Elissa, libanese pop singer, was born on the 27th, October 1972.
After her debut album "Baddi Doub" released in 1998 and sold 150.000 copies, Elissa appeared once again, in 2000, with arab star Ragheb Alama on a duet titled "Betghib Betrouh" which was a big hit for both.
After a break, Elissa took off with the single "Aychalak" (2002). Then, Elissa released ''Ahla Donya'' in 2004, ''Bastanak'' in 2006 which received a 2006 World Music Award for best-selling album in the Middle East, and her latest album "Ayami Beek'', sold millions of copies.
Comments on Elissa Khoury
Place a link to the page of Elissa Khoury on your website or blog
Post to your blog
Permanent link
BB CODE
Official Website of Elissa Khoury, photo of Elissa Khoury, song de Elissa Khoury, album of Elissa Khoury 2023, music video of Elissa Khoury , word of Elissa Khoury , listen Elissa Khoury mp3