Fares Karam -
فارس كرم
Biography of Fares Karam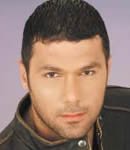 Fares Karam, Lebanese singer.
Fares Karam had in a short time achieved a big success. Fares Karam chose a purely Lebanese style ''Dabkah'' to make his works distinct from contemporary Arab-speaking artists' and very popular in Lebenon.
Apart from his big hit singles such as ''El-Tannoura'', ''Chari'a Al Hamra'', Fares Karam has performed in several concerts, public celebrations and festivals all over the world.
Comments on Fares Karam
Place a link to the page of Fares Karam on your website or blog
Post to your blog
Permanent link
BB CODE
Official Website of Fares Karam, photo of Fares Karam, song de Fares Karam, album of Fares Karam 2022, music video of Fares Karam , word of Fares Karam , listen Fares Karam mp3