Grace Deeb -
غريس ديب
Biography of Grace Deeb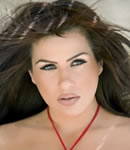 Grace Deeb is a Lebanese singer born in Beirut.
Grace Deeb began her show business career at the age of fourteen. Then she made her first steps on television and later worked as TV presenter in notorious Lebanese TV channels.
Her popularity rising, Grace Deeb launched a singing career. She first appeared as singer in the music video of the song "Ana Law Alaya" of Assi El Helani in which she sang in English. Thanks to her distinguished voice, Grace Deeb did not pain to meet recognition.
Her first album "Ghanaly El Alam Kolo" was released in 2004. Since, she released two other albums "Aktar Min Gharam" in 2006 and the latter "Mabtshbh Hada" produced by Saudi Arabian recording company Rotana.
Grace Deeb sings in Arabic, French, English, Italian and Greek.
Comments on Grace Deeb
Place a link to the page of Grace Deeb on your website or blog
Post to your blog
Permanent link
BB CODE
Official Website of Grace Deeb, photo of Grace Deeb, song de Grace Deeb, album of Grace Deeb 2023, music video of Grace Deeb , word of Grace Deeb , listen Grace Deeb mp3