Iwan -
إيوان
Biography of Iwan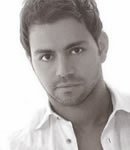 Mohamed Baaseery better known by his stage name Iwan. He was born on August 17th, 1980 in Lebanon. Iwan has two brothers and one sister.
He studied Hotel Management in the Lebanese University. He's preparing for his Master in Business Administration ( MBA) degree.
Iwan started his career like compositor, he had composed to Bassima, Fares Karam... Also, he wrote a song for Carol Samaha.
He sing at School and University.
Iwan broke through with a smash hit titled ' Ouedni w kol Inchallah', he was the writer of this song and made it video-clip with Walid Naseef as Director.
He released a second hit ' Zanbi Eih' written and composed by Iwan himself.
In 2004 Iwn signed a contract with the Egyptian Production company 'Melody Music' and launched his first album 'Albi Sahran' which were very successful.
Place a link to the page of Iwan on your website or blog
Post to your blog
Permanent link
BB CODE
Official Website of Iwan, photo of Iwan, song de Iwan, album of Iwan 2022, music video of Iwan , word of Iwan , listen Iwan mp3