Jad Choueiri -
جاد الشويري
Biography of Jad Choueiri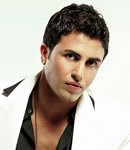 Jad Choueiri, Lebanese male performer.
In 1997, he got his scientific French Baccalaureate, scoring one of the highest grades in the middle East in French Literature.
After, he decided to study movie direction in 'l'Ecole de Réalisation Audiovisuelle' in ALBA. 2 years later, he goes 'La Sorbonne Paris III' and got his degree in 'Arts du Spectace Options Etudes Cinématographiques'.
In 2001, he participated in 'Studio El Fan' and won the gold medal and 25.000 dollars in the clip directing category for Rida Boutrous Clip. Also, he shot two other clips and won the silver medal in the same category.
Working as a journalist and art director in a French magazine 'Select' he started to learn Arabic pronunciation and vocalize.
In 2003, Jad Choueiri launched his first hit 'A'ollak Eh' which were very popular.
Place a link to the page of Jad Choueiri on your website or blog
Post to your blog
Permanent link
BB CODE
Official Website of Jad Choueiri, photo of Jad Choueiri, song de Jad Choueiri, album of Jad Choueiri 2023, music video of Jad Choueiri , word of Jad Choueiri , listen Jad Choueiri mp3