Joe Ashkar -
جو أشقر
Biography of Joe Ashkar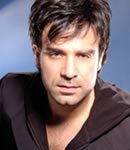 Joe Ashkar is a Lebanese singer.
He has in his active one album titled 'Malek W Sultan' which includes 13 tracks; among them is cited 'Waynek', 'Shou Akhbarek', 'Malek w Sultan', 'Ma Reid', 'Hanouni', 'Zay El Amar'.
Joe Ashkar shot a number of his song as video clips such as 'La3younik', 'Waynik', Malek W Sultan', ' Ma Reid', ' Bethebeny Walla Kalaam', 'Ba3tal Hammik'.
Recently, Joe Ashkar launched a hit duet with the young Moroccan singer Hanaa EL Idrisi that was entitled 'Lassahar Sahar' which was very popular.
Place a link to the page of Joe Ashkar on your website or blog
Post to your blog
Permanent link
BB CODE
Official Website of Joe Ashkar, photo of Joe Ashkar, song de Joe Ashkar, album of Joe Ashkar 2022, music video of Joe Ashkar , word of Joe Ashkar , listen Joe Ashkar mp3