Joseph Attieh -
جوزيف عطيه
Biography of Joseph Attieh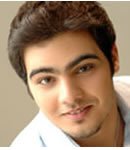 Joseph Attieh is a Lebanese singer. He was born in 1988 in Batroun, a city in northern Lebanon. Young, he played guitar, Nay and piano.
Joseph Attieh has participated in Star Academy 3 in 2006 and won the trophy, 50.000 dollars in cash and brand 2006 new car.
He was the first Lebanese winner of Star Academy reality TV-Show in the middle East.
Before participating in Star Academy 3 Joseph was studying radio and TV production.
Joseph Attieh shot music videos of songs ' La Trouhi', 'EL Haq Ma Bimout' and 'Habayt Ouyounak' which were very popular.
Place a link to the page of Joseph Attieh on your website or blog
Post to your blog
Permanent link
BB CODE
Official Website of Joseph Attieh, photo of Joseph Attieh, song de Joseph Attieh, album of Joseph Attieh 2020, music video of Joseph Attieh , word of Joseph Attieh , listen Joseph Attieh mp3