Julia Boutros -
جوليا بطرس
Biography of Julia Boutros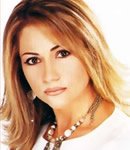 Julia Boutros, Lebanese performer. She was born in April 1 st, 1968 in Beirut.
She studied at the Rosary Sisters Schools. She is the sister of Lebanese composer and musician Ziad Boutros. Also their parents was also artists, her father was a director and reproduced Fairou'z plays.
At the age of 12 Julia Boutros recorded her first song titled ' A Maman'. Singing in her school's choir she recorded two songs ' C'est la Vie' and ' Viens dans ma Vie'.
In the 1980s, she rose to fame with her famous National-themed songs, like ' Shams el Haq'...
July, 2007, Julia Boutros announced that she has collecting 3 millions of dollars to help the families of Lebanese soldiers killed in the last Israel-Lebanon conflict.
Julia has in her active many albums like ' Ghabet Shams El Hak' in 1991, ' Wayn Msafer' in 1992, ' Hikayet Atab' in 1993, ' Ya Ossas' in 1994, 'El Karar' in 1996, 'Shi Ghareib' in 1998, 'Bissaraha' in 2001, ' Lab Ahlamak'in 2004 and 'Et Awadna Alayk' in 2006.
Recently, she has launched a new single entitled 'Ahibaii' ( My loved Ones), that was composed by her brother Ziad.
In 1996 Julia got married Elias Abu Saeb, vice president at the American University of Dubai.
Place a link to the page of Julia Boutros on your website or blog
Post to your blog
Permanent link
BB CODE
Official Website of Julia Boutros, photo of Julia Boutros, song de Julia Boutros, album of Julia Boutros 2022, music video of Julia Boutros , word of Julia Boutros , listen Julia Boutros mp3