Laura Khalil -
لورة خليل
Biography of Laura Khalil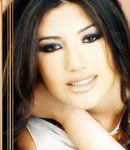 Laura Khalil is a female Libanese performer. She was born in Lebanon in Sptember 29th, 1976.
She studied in Santa Terries School until the age of 18, when she joined Al Qudus Soul University.
She learned Vocalization with the famous singer and professor Zaki Nassef.
Throughout her career Laura Khalil released several albums such as 'Ha Ti'mal Eih', 'Sings love', and 'Mithil el-Qamar'.
Recently, she signed a contract with Rotana Company which will produce her future albums.
Place a link to the page of Laura Khalil on your website or blog
Post to your blog
Permanent link
BB CODE
Official Website of Laura Khalil, photo of Laura Khalil, song de Laura Khalil, album of Laura Khalil 2023, music video of Laura Khalil , word of Laura Khalil , listen Laura Khalil mp3