Marcel Khalife -
مارسيل خليفة
Biography of Marcel Khalife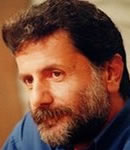 Lebanese legendary artist Marcel Khalife was born in 1950 in Amsheet, a small village on the coast in the North of Beirut (Lebanon).
From teacher to the conservatory of music in Beirut since 1970, Marcel Khalife became the leader of "Al Mayadeen Ensemble" he creaate first in 1972 to revive the musical heritage of his native village and which brought him fame all over Arab world with songs like "Ummi" and "Jawaz Al Safar".
Marcel Khalife was particularly a highly talented and skillful oud player whose playing was amazingly free from constraints. He has been invited several times to festivals of international renown and performed in several prestigious halls of the world.
Since 1974, Marcel Khalife has been composing music for dance, soundracks for film, documentary and fiction and several purely instrumental works including the most recent Sharq performed by the Italian Philharmonic Orchestra and the Piacenza Choir. Marcel Khalife's compositions have been performed by several perstigious orchestras which artistic genius elected him to be the ambassador of his own culture and a vanguard of Near Eastern music.
In 1999, Marcel Khalife, who sang for Palestinian cause for a long time, was granted the Palestine Award for Music and in 2005 was named UNESCO Artist for Peace.
Place a link to the page of Marcel Khalife on your website or blog
Post to your blog
Permanent link
BB CODE
Official Website of Marcel Khalife, photo of Marcel Khalife, song de Marcel Khalife, album of Marcel Khalife 2022, music video of Marcel Khalife , word of Marcel Khalife , listen Marcel Khalife mp3