Maria
Biography of Maria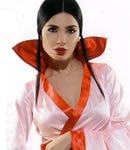 Maria or Maria Nalbadian is an Armenian-Lebanese singer. She was born on the first of August 1983.
Her father is a singer and her mother is a poet. She has a young brother who plays the guitar.
Maria studied business and marketing. She began her career as a model in the age of 13. Representing Lebanon, she was elected Miss Asia Bikini Beauty in 2002.
2 years later she launched her first album entitled 'Elaab' producing by Melody Hits. She rose the fame after shooting music video of his first song 'Elaab' which was directed by Jad Choueiri.
Place a link to the page of Maria on your website or blog
Post to your blog
Permanent link
BB CODE
Official Website of Maria, photo of Maria, song de Maria, album of Maria 2023, music video of Maria , word of Maria , listen Maria mp3