Marwan Khoury -
مروان خوري
Biography of Marwan Khoury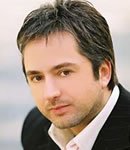 Marwan Khouri, Libanese singer, songwriter, composer and arranger.
Marwan studied piano and harmony in the Univesity Saint-Esprit de Kaslik (USEK) (Lebanon) and was distinguished for his composing skills.
Marwan Khouri released his self-written, self-composed and self-produced full-length album "Asak Habibi". The album was not that big hit Marwan was expecting.
From 1989 to 1996, Marwan Khouri performed as keyboard player in some famous Lebanese bands like sabah's band.
He tried once again as singer with his self-written song ''Fik Yamma Balak'' that established his talent but did not shot him to fame yet. In 1999, Marwan came up with ''Tia'' and ''Dalouna'' of Nawal Al-Zoughbi .
Even after an official album ''Khayal El-Omer'', Marwan had to wait for 2003 to receive the recognition he deserved as composer. As singer, it was ''Kil Alasaed'' album (2005) which earned him a high esteem and garnered him a five-years contract with the prestigious Rotana Records.
Comments on Marwan Khoury
Place a link to the page of Marwan Khoury on your website or blog
Post to your blog
Permanent link
BB CODE
Official Website of Marwan Khoury, photo of Marwan Khoury, song de Marwan Khoury, album of Marwan Khoury 2023, music video of Marwan Khoury , word of Marwan Khoury , listen Marwan Khoury mp3