Massari -
مساري
Biography of Massari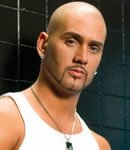 Massari, Lebanon-born, Canada-raised-up singer, was born Sari Fawasi Abboud December 10, 1981 in Beirut, Lebanon, is a R&B, pop and hip-hop singer.
At the age of 10, Massari moved to Montreal and then to Ottawa, Canada.
Having fluent English, French, and Arabic, Massari has quite large audiences in many countries.
Massari's first title was "Spitfire" released in 2002, three years earlier than his first self-titled album "Massari" including 4 singles: "Smile For Me" (feat Loon), "Be Easy", "Rush The Floor" (feat Belly) and a big hit "Real Love". The album had a Gold plaque in Canada.
In 2007, Massari went on to record a second album on Sony BMG Europe. Singles "Say You love Me" and "In Love Again" of the album gave Massari a foretaste of how much success is expecting for his second opus.
Comments on Massari
Place a link to the page of Massari on your website or blog
Post to your blog
Permanent link
BB CODE
Official Website of Massari, photo of Massari, song de Massari, album of Massari 2023, music video of Massari , word of Massari , listen Massari mp3