May Hariri -
مي حريري
Biography of May Hariri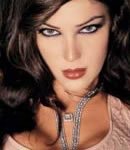 May Hariri is a Lebanese singer and actress. She was born on December 24th, 1972 in South Lebanon.
She began her career with the song ' Ha Sahar Ouyounou' which was well-received in Lebanon and the Arab world. She launched her first album entitled 'Ha Sahhar Ouyounou' which contains 8 tracks.
Throughout her career, May Hariri shot a number of her songs as video clips that increased her fame and popularity, such as ' Taala nor'os Sawa', 'Hasahar Eiounouh',' Fallaha', 'Maa Min Jani', 'Ya Bta3 Lgharam', 'Habibi Inta'.....
May Hariri was described as the most beautiful woman in Lebanon.
Place a link to the page of May Hariri on your website or blog
Post to your blog
Permanent link
BB CODE
Official Website of May Hariri, photo of May Hariri, song de May Hariri, album of May Hariri 2023, music video of May Hariri , word of May Hariri , listen May Hariri mp3