Maya Nasri -
مايا نصري
Biography of Maya Nasri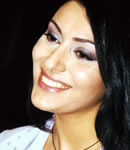 Maya Hussam Asmar better known by her stage name 'Maya µNasri' is a Lebanese singer and actress. She was born in August 14, 1976 in a small town in northern Lebanon.
Later Maya moved with her family to Beirut and joined the Lebanese university of Fine Arts. Where she study theatre arts, TV and Cinema acting and directing.
Befor starting her career like a singer, Maya Nasri was an actress in Lebanese series, theatres, plays and movies, and was also a high fashion modelings.
In 1998, she participates in 'Kas Al-Noujoum' a television show and won all three gold cups.
Maya Nasri Launched her first album 'Akhbarak Eih' in 2001 and was well received all over the arabic world. The three hit singles Akhbarak Eih?, Ya Waheshni, and Khalini Biljao boosted Maya to her fame.
Maya Nasri released a lot of albums like ' Law Kan Lak Alb' (You had a heart) in 2003, 'Izzay Te'rafni' (How Do You Know me) in 2005 and 'Jayi Lwa't ( The Time is coming) in 2008.
Place a link to the page of Maya Nasri on your website or blog
Post to your blog
Permanent link
BB CODE
Official Website of Maya Nasri, photo of Maya Nasri, song de Maya Nasri, album of Maya Nasri 2023, music video of Maya Nasri , word of Maya Nasri , listen Maya Nasri mp3