Melhem Barakat -
ملحم بركات
Biography of Melhem Barakat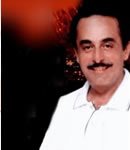 Melhem Barakat, a Lebanese singer, was born in 1944 in Kafr Chima, Lebanon.
Melhem Barakat grew up with the sound of legendary Egyptian composer and singer Mohamed Abdelwahab. Still a child, Melhem showed a special talent while singing in school parties. One day, he composed a text from the school journal and sang it first before his classmates and teachers who appreciated a lot his performance and then before leader names of Lebanese musical scene who affirmed he was an exceptional talent and a charming voice.
Melhem Barakat career was a series of successes. His best works were "Amarine", "Abouha Radi", "Farah Ennass" and "Habibi Inta".
Later on, he entered the prestigious Rahbani school that married western classical and folk music with old Lebanese traditional gigs and gave birth to numerous outstanding artists.
Comments on Melhem Barakat
Place a link to the page of Melhem Barakat on your website or blog
Post to your blog
Permanent link
BB CODE
Official Website of Melhem Barakat, photo of Melhem Barakat, song de Melhem Barakat, album of Melhem Barakat 2023, music video of Melhem Barakat , word of Melhem Barakat , listen Melhem Barakat mp3