Melhem Zein -
ملحم زين
Biography of Melhem Zein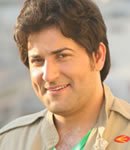 Melhem Zein is one of the young budding Lebanese singers. He was born on October 21, 1982 in Shmistar, Lebanon.
Melhem Zein made his first steps on musical scene while he participated to Kaas Al Noujoum, a singing program for amateurs aired on Lebanese LBC Channel where he receives the title of Al Rayyes of the Lebanese folklores songs for his interpretation of Mohamed Abdelwahab's hit "Ya Jarat Al Wadi".
Melhem Zein biggest appearance to public was in Future Tv Channel talent show Super Star in its first edition. After being ranked 3rd, Melhem Zein leads to stardom his own career.
Melhem Zein discography includes two successful albums "Enti Msheeti" released in 2004 and "Baddi Hibbik" launched in the summer of 2006. Both albums great success solidified the Melhem as an Arab superstar.
Place a link to the page of Melhem Zein on your website or blog
Post to your blog
Permanent link
BB CODE
Official Website of Melhem Zein, photo of Melhem Zein, song de Melhem Zein, album of Melhem Zein 2023, music video of Melhem Zein , word of Melhem Zein , listen Melhem Zein mp3