Moein Sherif -
معين شريف
Biography of Moein Sherif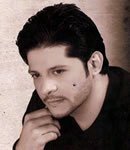 Moein Sherif is a Lebanese singer.
Moein Sherif made his first steps toward a singing career at the age of nine. Later, he entered the conservatory. Fresh out, he was discovered by legendary Lebanese singer and musician Wadiî Essafi and signed with Studio Al Fan for his first work which contract was a source of troubles. Troubles which will accompany him during his whole career even with other recordings companies which will reduce his releases.
Moein Sherif latest album is "Albak Tayeb" released in 2007 produced by Rotana including eight songs.
Place a link to the page of Moein Sherif on your website or blog
Post to your blog
Permanent link
BB CODE
Official Website of Moein Sherif, photo of Moein Sherif, song de Moein Sherif, album of Moein Sherif 2023, music video of Moein Sherif , word of Moein Sherif , listen Moein Sherif mp3