Najwa Karam -
نجوى كرم
Biography of Najwa Karam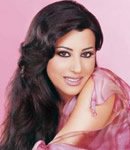 Najwa Karam, Lebanese singer, was born February 26, 1966, in Zahle (Lebanon).
Graduated with a degree in Philosophy, Najwa Karam was teaching for two years. Najwa Karam used to sing while she was at school and grew up with only one dream: becoming a singer.
Despite of her father's disapproving; Najwa Karam began singing in the late 1980s. in only a few years, the moderate success she got at her debut turned to a wide recognition thanks to her very distinguished style and her special Lebanese accent.
Since the mid-90s, Najwa Karam is one of the best album-sellers in Arab world, the most active singers with several performances around the world and also the most awarded.
Comments on Najwa Karam
Place a link to the page of Najwa Karam on your website or blog
Post to your blog
Permanent link
BB CODE
Official Website of Najwa Karam, photo of Najwa Karam, song de Najwa Karam, album of Najwa Karam 2023, music video of Najwa Karam , word of Najwa Karam , listen Najwa Karam mp3