Nawal Zoghbi -
نوال الزغبي
Biography of Nawal Zoghbi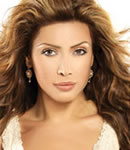 Nawal Zoghbi, born Nawal George Al Zoghbi June 29, 1972 in Beirut, Lebanon, is a famous Lebanese singer.
Nawal Zoghbi began her career at twenty. Armed with a strong will and a powerful, soul-charged voice, Nawal Zoghbi was determined to make her singing dream come true.
After a two-year singing in the Gulf countries, Nawal, back to Beirut, released her debut album "Wehyati Andak" in 1992 which achieved a moderate success. Her next album "Ayza El Radd'' in 1994 was a hit and brought her fame.
In her following works, Nawal Zoghbi sought creating new and original music while being up to date with Arab music and new styles. She also dared meld music from different parts of the world such as samba in ''Toul Omri'' released 2001.
Nawal Zoghbi is now one of the most known artists in Arab world and across many other countries. She has a huge fan base all over the world and her albums sales is among the highest-ever in Arab world.
Nawal Zoghbi is married to Elie Deeb and has three children: Tia (eldest), boy twins (Joey and George).
Comments on Nawal Zoghbi
Place a link to the page of Nawal Zoghbi on your website or blog
Post to your blog
Permanent link
BB CODE
Official Website of Nawal Zoghbi, photo of Nawal Zoghbi, song de Nawal Zoghbi, album of Nawal Zoghbi 2023, music video of Nawal Zoghbi , word of Nawal Zoghbi , listen Nawal Zoghbi mp3