Nelly Makdessy -
نيللي مقدسي
Biography of Nelly Makdessy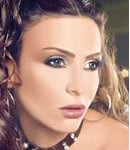 Nelly Makdesy is a Lebanese singer.
Nelly started her musical career in the talent show ' Kaass El Noujoum', and won the first place, and three golden cups.
After participating in 'Kaas El Noujoum" she launched three albums in three years: "Shouf el Ein", "Ahli Arab" and "Ana Eh".
Nelly Makdessy performed several festivals in Lebanon, and in the Arab World.
Throughout her career, Nelly Makdessy shot a number of her songs as video clips that increased her fame and popularity, among them is cited "Wah Wah"and"Shouf el Ein" directed by Rawad Daw, "Mechi el Maghrour" directed by Chadi Hanna, "Chabki Chanouha" directed by Mirna Khayat, "Hali Halo" directed by Juliana Sfeir, and "Ana Eh" directed by Salim El Terk.
Place a link to the page of Nelly Makdessy on your website or blog
Post to your blog
Permanent link
BB CODE
Official Website of Nelly Makdessy, photo of Nelly Makdessy, song de Nelly Makdessy, album of Nelly Makdessy 2022, music video of Nelly Makdessy , word of Nelly Makdessy , listen Nelly Makdessy mp3