Nicole Saba -
نيكول سابا
Biography of Nicole Saba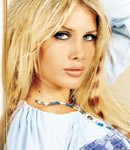 Nicole Saba is a Lebanese singer and actress. She was born in Beirut June 26, 1974.
She participated in many movies like 'El Tagroba Al Danemarkeya' in 2003 that was her first acting experience, she played alongside the famous Adel Imam.
'Tomn Dastet Ashrar' ( 2006) was the second experience in acting.
She rose to fame with her song ' Ya Shaghilny Bek' which was released later in the album ' Ya shaghilny'.
Nicole has in her active many singles like "Baly Beek Mashghoul', 'Ash'aak ', 'Albak Mosh Ala Had ', ' brahti', 'Ana Tab3y Kida'.
In 2004, she won the award for the best singer by Sayedati magazine.
Place a link to the page of Nicole Saba on your website or blog
Post to your blog
Permanent link
BB CODE
Official Website of Nicole Saba, photo of Nicole Saba, song de Nicole Saba, album of Nicole Saba 2022, music video of Nicole Saba , word of Nicole Saba , listen Nicole Saba mp3