Pascal Machaalani -
باسكال مشعلانى
Biography of Pascal Machaalani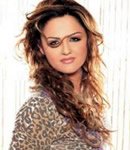 Pascale Machaalani or Pascale Bechara Machaalani is a Lebanese singer, born on March 27, 1964 in Jounieh in Lebanon.
She was raised by his mother after the death of his father before the first Pascal's birthday.
The Pascle musical talent was discovered by Ihsan Al Munzer composer and the poet Toufiq Barakat. She recorded her first album entitled 'Sahar Sahar' in Egypt that was composed by Dr. Jamal Salameh and wrote by the famous poet Abd Rahman Al Abnoudi.
Pascale has in her active many albums among them is cited 'Nazrat Outounak', 'Banadi', 'Albak Assi', 'Lamma Bshoufak', 'Khayala', 'El Nour Shams',' Albi ',' My Name Fi ',' Chou Amaltelak Ana ',' Saabe Eich dounak min ',' Akbar Kezbeh 'and' Akhid Aqly '.
In addition, Pascale is considered among the finest Lebanese singers. When she was 13, she was crowned Queen of beauty in her home town of Zahle.
Place a link to the page of Pascal Machaalani on your website or blog
Post to your blog
Permanent link
BB CODE
Official Website of Pascal Machaalani, photo of Pascal Machaalani, song de Pascal Machaalani, album of Pascal Machaalani 2022, music video of Pascal Machaalani , word of Pascal Machaalani , listen Pascal Machaalani mp3