Ragheb Alama -
راغب علامه
Biography of Ragheb Alama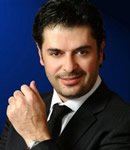 Ragheb Alama, a famous Lebanese singer, was born on June 7th, 1962 in Ghoubeiri in Beirut, Lebanon.
Ragheb Alama was a remarkably talented child. His father, believing in his son's genius found him an opportunity to be introduced to the radio.
At the age of fifteen, Ragheb Alama entered the Conservatoire in order to study lute and, graduating, he joined the team of Art Studio Program ''Studio Al Phan" which experience gave his career a big boost till he broke through with a hit single ''Hamdellah 3a Salama".
The 1980s gave Ragheb Alama the consecration he sought and deserved. He took part in several Arab Festivals such as Carthage, Jerash and Egypt and also International celebrations notably the key of the City of Sydney where he won a platinum disc for his album "Albi A'she'aha".
After a 25-years brilliant career proved by an entirely successful discography of 15 albums, Raghab Alama is an incontestable star of the Arab world.
Place a link to the page of Ragheb Alama on your website or blog
Post to your blog
Permanent link
BB CODE
Official Website of Ragheb Alama, photo of Ragheb Alama, song de Ragheb Alama, album of Ragheb Alama 2022, music video of Ragheb Alama , word of Ragheb Alama , listen Ragheb Alama mp3