Ramy Ayach -
رامي عياش
Biography of Ramy Ayach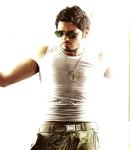 Lebanese superstar Ramy Ayach was born in 1980, in a small town called Baakleen (Lebanon).
Ramy Ayach first met success in 1996 while participating in "Studio El Fan" a musical talent show in Beirut. Ramy Ayach impressed the jury and came first with a Gold medal. The song he interpreted at the show has topped chart lists and earned him nominations for "Best Song" in 1997.
No longer waiting to launch his first album, Ramy Ayach released "Diwan Al Hobb" including three hit songs. "Khad Harir"and its music video catapulted the singer into fame. His following smash hit was "Albi Mal" which invaded Middle-eastern market in 2002. The music video of the song added to the success of the song. The album also included a remake of classical Lebanese singer Wadi Assafi, "Allaylo Ya Layla" which had a huge success among Arab-speaking countries.
In 2004, Ramy Ayach released "Ya Masahar Ayni". Songs "Ya Msahar Ayni" and "Khallini Maak" achieved huge sales to the album and took the singer to stardom.
Ramy's latest album is the eight one "Habbaytak Ana" released in December 2006.
Place a link to the page of Ramy Ayach on your website or blog
Post to your blog
Permanent link
BB CODE
Official Website of Ramy Ayach, photo of Ramy Ayach, song de Ramy Ayach, album of Ramy Ayach 2023, music video of Ramy Ayach , word of Ramy Ayach , listen Ramy Ayach mp3