Sabah -
صباح
Biography of Sabah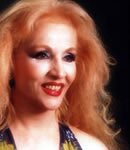 Janet Gergi Fighali better known by her stage name Sabah is a Lebanese singer and actress. She was born on November 10, 1927 in the village of Wadi Shahroor.
Since the 1940s, 'Al Shahroora' (singing bird) or Sabbouha began to sing and play in Egyptian films.
During his career, which runs until today, Sabah has released more than 50 albums and has played in 98 films and more than 20 stage plays. She has in her active more than 3500 songs.
Recently Sabahreleased in 2005 a new single and made a duet with the young Lebanese singer Rola a remake of his most beautiful hits of 1970s.
Sabah was married 7 times, Najib Shammas (1946- 1951) with whom she has had a child 'Sabah', Anwar Mansy the father of her daughter 'Howayda Mansy', the great composer Baligh Hamdy, the Egyptian television presenter Ahmed Farrag, the famous Egyptian actor Rushdy Abaza to whom she was married for just 3 days, Joe Hammoud, Wassim Tabbara and Fadi Lubnan.
Place a link to the page of Sabah on your website or blog
Post to your blog
Permanent link
BB CODE
Official Website of Sabah, photo of Sabah, song de Sabah, album of Sabah 2020, music video of Sabah , word of Sabah , listen Sabah mp3