Talal Salameh -
طلال سلامه
Biography of Talal Salameh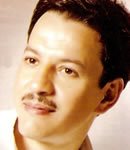 Talal Salameh is a Saudi singer.
Talal Salameh rose the fame with the song 'Reda Walah w radinak' wich was very popular.
He has in his active several albums such as ' Leik Wa7shah', ' Saddeqni','Taalamt Algharam'....
Recently Talal Salameh launched his last album entitled 'Tala Salameh 2008' with Rotana company which contains 14 tracks among them is cited ' Tesafr', 'Asal Alli', 'Koul El Mashaaer', 'Yulah', 'Anta Lee'.....
Place a link to the page of Talal Salameh on your website or blog
Post to your blog
Permanent link
BB CODE
Official Website of Talal Salameh, photo of Talal Salameh, song de Talal Salameh, album of Talal Salameh 2023, music video of Talal Salameh , word of Talal Salameh , listen Talal Salameh mp3