The 4 Cats
Biography of The 4 Cats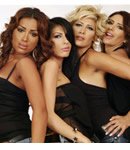 The 4 Cats, Lebanese female pop band, was formed in 1997 on an idea of Gassan Rahbani.
If talent, musical knowledge and beauty were what Rahbani looked for the members of The 4 Cats, the girls he selected were also wonderfully simple but original with a civilized and international look which made them unique.
The 4 Cats first released a live concert in Cairo on 1998. The success of the concert took them throughout Arab world giving live concerts.
Their first clip "A'chra, Had'ch, Tna'ch" was performed in the United Kingdom in 1998.
The 4 Cats' first album "Tic-Tic" was released in 1998 and composed by Elias RAHBANI. "Ya Nassini" and "Kan El-zaman" from the album was shot in the same year and were the hits of the years 1998-1999 sold more than one million copies in the Arab world and topped Arabic charts for more than four months.
The 4 Cats released their second album "Layl Nhar" in the mid. 2000. The video clip "LAYL NHAR" was a great success thanks to its music and choregraphy.
After a third album "Tal Intizari" released early 2002, the 4 Cats launched a hit album called "Ya Antar".
The 4 Cats latest album was called "Eddinye Heyk" released November 2005.
Place a link to the page of The 4 Cats on your website or blog
Post to your blog
Permanent link
BB CODE
Official Website of The 4 Cats, photo of The 4 Cats, song de The 4 Cats, album of The 4 Cats 2020, music video of The 4 Cats , word of The 4 Cats , listen The 4 Cats mp3