Wael Jassar -
وائل جسار
Biography of Wael Jassar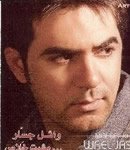 Wael Jassar, Lebanese singer.
Wael Jassar first sang Oum Kalthoum and Abdelhalim Hafez. He was distinguished with a clear similarity between his voice and Georges Wassouf's.
Wael Jassar released his first album in 1996. ''Machi'' was very successful and draw public and critics attention over Wael Jassar as a very promising artist.
His following albums were as successful and Wael Jassar, more and more solicited by a large public, went in tours performing concerts all over the world.
Wael Jassar is now one of the biggest album sellers middle eastern singers.
Place a link to the page of Wael Jassar on your website or blog
Post to your blog
Permanent link
BB CODE
Official Website of Wael Jassar, photo of Wael Jassar, song de Wael Jassar, album of Wael Jassar 2023, music video of Wael Jassar , word of Wael Jassar , listen Wael Jassar mp3