Wael Kfoury -
وائل كفوري
Biography of Wael Kfoury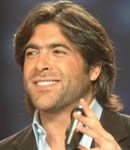 Wael Kfoury, born Michael Emile Kfoury on September 14th, 1974, is a Libanese singer.
In 1993, Wael Kfoury studied music at the University of Rouh AL Quds. After graduating, he recorded his first album 'Ma Waatik'' within Studio Al Fan including the single ''Bi Njoom Alayl'' which was a success.
Later on, Wael Kfoury signed with Rotana Recordings and released a hit album ''Saalouni" which garnered him many awards and tours all over the world.
Wael Kfoury is one of the highest selling Middle East artists.
Place a link to the page of Wael Kfoury on your website or blog
Post to your blog
Permanent link
BB CODE
Official Website of Wael Kfoury, photo of Wael Kfoury, song de Wael Kfoury, album of Wael Kfoury 2022, music video of Wael Kfoury , word of Wael Kfoury , listen Wael Kfoury mp3