Yara -
يارا
Biography of Yara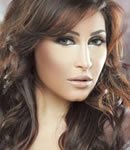 Yara, a popular Arab female singer, was born in Lebanon.
Yara has started her singing career at a young age. She first interpreted "Hob Kbeer", a ballad with an outstanding success. A first album followed the song.
Thanks to a soulful voice and an attracting personality, Yara soon imposed her style. Her "Twassa Feyi" catapulted her into stardom. The music video of the song was a great success and have been played on heavy rotation on numerous Arab-speaking channels.
Later on, comes the next smash hit of Yara: a duet with the famous Lebanese singer Fadl Shaker titled "Akhidni Maak".
After such a great success, Yara's peak is not yet to come.
Comments on Yara
Place a link to the page of Yara on your website or blog
Post to your blog
Permanent link
BB CODE
Official Website of Yara, photo of Yara, song de Yara, album of Yara 2022, music video of Yara , word of Yara , listen Yara mp3