Yuri Mrakadi -
يوري مرقدي
Biography of Yuri Mrakadi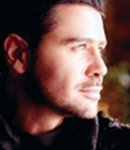 Yuri Mrakadi is a Lebanese singer.
He rose the fame with his songs 'Arabion Ana' and ' Almar'a Al3arabiya' which was popular all over the Arabic world. 2001, Youri launched his first album 'Arabion Ana'.
Throughout his career, Youri Mrakadi released several albums among them is cited 'Arabion Ana', 'Bahebak Mout' that includes 9 tracks 'Habs Alnissa' which includes 11 tracks.
Also Yuri Mrakadi played in the film entitled 'El Hayah Montaha El Lazzah' alongside actress Hanane Turk.
Place a link to the page of Yuri Mrakadi on your website or blog
Post to your blog
Permanent link
BB CODE
Official Website of Yuri Mrakadi, photo of Yuri Mrakadi, song de Yuri Mrakadi, album of Yuri Mrakadi 2021, music video of Yuri Mrakadi , word of Yuri Mrakadi , listen Yuri Mrakadi mp3