Zee Zee
Biography of Zee Zee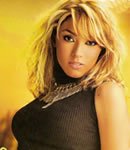 Zee zee Adel is an Egyptian singer, she was born on October 26th, 1987 in Egypt.
She studied at the Institue of Arabian Music.
Zee zee Adel has participated at Star Academy 2 a middle Eastern talent show.
She signed a contract with Rotana company, and has launched her first album titled ' Wa7da Tayeb' that holds 8 tracks like ' Ana bin Ideek', 'Ehsasi Beek', 'Wahda Tayiba', 'Arif Ana Gaya Leeh'...
Zee zee Adel has shot music videos of songs ' Hob mesh Mahsoob' and ' Wahda Tanya' which were very popular.
Place a link to the page of Zee Zee on your website or blog
Post to your blog
Permanent link
BB CODE
Official Website of Zee Zee, photo of Zee Zee, song de Zee Zee, album of Zee Zee 2022, music video of Zee Zee , word of Zee Zee , listen Zee Zee mp3