Zein El Omr -
زين العمر
Biography of Zein El Omr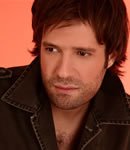 Zein El Omr is a popular Lebanese singer. He was born in the Bekaa, Lebanon.
Zein El Omr started his singing career in 1994 with a song "Kazdarna W Tal El Mishwar". The success of the song promises to Zein El Omr, still a teenager, a flourished career. Zein El Omr had a few years ago, sung in nightclubs and private parties in Canada where he moved with he was studying.
Later on, his charismatic personality, his nostalgic voice and his ability to master all styles of Oriental singing earned him Arab recognition and a rapidly growing fan base.
"Sameh" was the next album of Zein El Omr. The opus had an even greater success for it included a number of hits such as "Nejmet Hayati", "Ana Be''chaa Hali Fiki". The subsequent albums of Zein El Omr, from 1996 to 2000, achieved proving his undeniable talent.
In 2001, Zein El Omr was awarded the Golden Murex Award (Murex D''Or) for the best song of the year for his patriotic song "Shou 3meltelli bel balad". Two albums, "Hibbini Aktar" and "Ala Eyni" followed.
Zein el Omr is an acclaimed artist either in his native country or beyond. He has toured in Europe, America, Australia, and Canada and performed in major music festivals.
Place a link to the page of Zein El Omr on your website or blog
Post to your blog
Permanent link
BB CODE
Official Website of Zein El Omr, photo of Zein El Omr, song de Zein El Omr, album of Zein El Omr 2023, music video of Zein El Omr , word of Zein El Omr , listen Zein El Omr mp3