Ziad Bourji -
زياد برجي
Biography of Ziad Bourji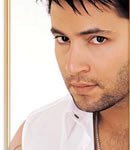 Ziad Bourji, Lebanese young singer.
Ziad Bourji biggest appearance as a singer was in the fifth edition of LBC Talent Show, the Arabic version of Star Academy. Fresh out the most important experience of his career which introduced him to Arabic scene, Ziad Bourji released his first song "Ana Albi Alayk". The music video of the song was aired in rotation on all Arab music TV channels and dominated radio stations playlists.
Ziad Bourji's latest work is "Al Eih".
Comments on Ziad Bourji
Place a link to the page of Ziad Bourji on your website or blog
Post to your blog
Permanent link
BB CODE
Official Website of Ziad Bourji, photo of Ziad Bourji, song de Ziad Bourji, album of Ziad Bourji 2023, music video of Ziad Bourji , word of Ziad Bourji , listen Ziad Bourji mp3