Ziad Rahbani -
زياد رحباني
Biography of Ziad Rahbani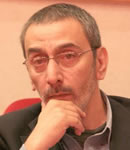 Ziad Rahbani is a Lebanese composer and writer for theater shows and radio. He was born in 1956in Beirut.
Ziad Rahbani is the son of the Lebanese singer Fairouz and composer Assi Rahbani.
Ziad has composed many songs for Fairouz and other singers like Latifa....
Many of his musicals talk about the political situation in Lebanon during the civil war and after. Also, his musicals compositions deal with philosophical issues.
Ziad Rahbani has released many albums 'Belly Dance ' and ' Bil Afrah' in 1972, 'Sahrieh Songs ' in 1973, 'Abo Ali' in 1979, ' Shareet Ghair Hodoudi' in 1984,' Beam Enno' in 1996.... and recently 'Mondose' in 2001.
Place a link to the page of Ziad Rahbani on your website or blog
Post to your blog
Permanent link
BB CODE
Official Website of Ziad Rahbani, photo of Ziad Rahbani, song de Ziad Rahbani, album of Ziad Rahbani 2022, music video of Ziad Rahbani , word of Ziad Rahbani , listen Ziad Rahbani mp3