Abdellah Daoudi -
عبد الله الداودي
Biography of Abdellah Daoudi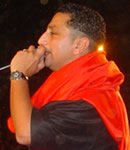 Abdellah Daoudi, moroccan popular music performer, was born on the 12th october, 1972 in Ouled Sidi Bendaoud tribe in the village of Ghissar, Sttate (Morocco).
Still teenager, Abdellah Daoudi was so attracked to moroccan traditional music called Chaabi that he quit school at the age of 18 to devote himself entirely to music.
Daoudi's debut album was not a big success, it made him however think about creating his own musical style.
With Mostapha Asmir Kindi, Abdellah Daoudi went on tour to USA and learn play violin. His next album was the fruit of musical maturity he got throughout this experience. Indeed, « Ayta Daoudia » was very successful.
Abdellah Daoudi is now a star of moroccan popular music, Chaabi.
Place a link to the page of Abdellah Daoudi on your website or blog
Post to your blog
Permanent link
BB CODE
Official Website of Abdellah Daoudi, photo of Abdellah Daoudi, song de Abdellah Daoudi, album of Abdellah Daoudi 2023, music video of Abdellah Daoudi , word of Abdellah Daoudi , listen Abdellah Daoudi mp3